Thanks to Apple Valley Dental Group's well-deserved reputation for excellence in Front Royal, and hard work from our team, we have helped them optimize their online presence and grow their business.
Nathan and our web design team started by building them a mobile-friendly website designed to convert viewers into customers.
Our goal wasn't just to give them a lovely new website but to give them a lovely new website that converts visitors into patients.  Combining elegant design with results-driven marketing strategies, we created a website that resonates with their audience, and now more than 30% of visitors to the website perform one of the conversion actions, such as visiting the contact page or requesting an appointment.
An effective website should be more than a static online billboard or business card; it should be a "living" tool that works to bring you more business. A good website acts as a salesman who promotes your best features and invites visitors to learn more.
Even the most beautiful website is not very helpful, however, if nobody sees it.  An elegant design must be paired with search engine optimization for a website to show up at the top of Google search results.
When we first began working with Apple Valley Dental, they were appearing on the second, third, or even fourth page of Google results, depending on the search terms. We are pleased to say that, by utilizing SEO (search engine optimization) best practices, we have helped Apple Valley Dental appear on the first page of Google results for all major search terms, and they currently hold the first result for several terms! This has increased traffic to their website by over 380%, and each month they are contacted by several new patients through the online contact and appointment form.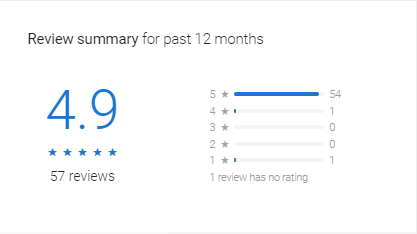 A well rounded digital marketing strategy needs to extend beyond just a website, so we worked together with the Apple Valley Dental staff to increase their total yearly reviews, from 15 in 2016 to 50 in 2017, on a variety of platforms.
In addition, Katherine, manager of our social media department, helped them to organically double the likes and follows on their Facebook page.  Increasing visibility and interaction on Facebook is a great way to cultivate exposure and foster new business.  To that end, by managing their Facebook page with personalized care, we achieved a threefold increase in their organic (non-promoted) reach.
When Facebook changed their algorithm in 2018, most business pages' reach and exposure were negatively impacted, but the AVDG Facebook page has weathered the change well and has seen no decrease in reach.
The Apple Valley Dental team have been an absolute pleasure to work with, both professionally and personally. Even our kids look forward to their appointments!
Contact us today to learn more about how we can help your business increase its online presence and reach new heights!